December 7 2010:

I was invited to participate in the 2011 SEAMUS (Society of Electro-Acoustic Music in the United States) Conference in Miami, Florida.



November 20, 2010:
I'll be spending the second week of February in Apeldoorn, The Netherlands as part of the 17t International Young Composers Meeting (YCM) organized by the
Orkest de ereprijs
and the GAUDEAMUS Foundation. I will write a new work for mezzo-soprano and chamber wind ensemble to be premiered on February 18, 2011.
May 17, 2010:
Nina C. Young was selected as a winner in the 2010 BMI Student Composer Awards for her composition
Kolokol
. An awards reception was held on May 13, 2010 by BMI at the Jumeirah Essex House in New York City.
Read more...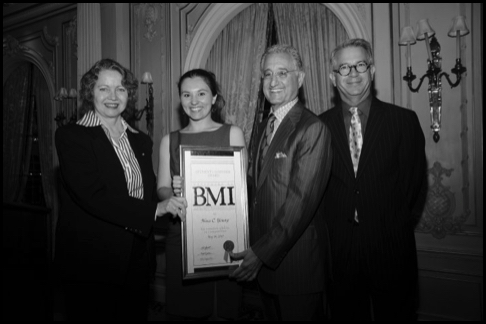 March 31, 2010:

Haralabos [ Harry ] Stafylakis and I donated the proceeds of 2010's Designs in Harmony concert the Montreal Children's Hospital Foundation. The concert took place on March 20, 2010 at Christ Church Cathedral. Works by composers Thomas Carr, Nicholas Esterer, Bernand Falaise, Michael Oesterle, Duncan Schouten, Haralabos [ Harry ] Stafylakis, and Nina C. Young were conducted by Michal Novotny and performed by the Independent Orchestra and Chamber Players at McGill and special guests the Quatuor Bozzini at Christ Church Cathedral in Montreal.


Video selections from the concert are available on youtube: